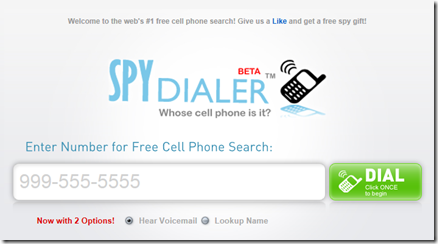 Spy Dialer allows you to spy dial a phone number and is an interesting "free" tool to use if you want to find out who called you when you don't recognize the phone number on your caller ID or after a missing a call. Spy Dialer is free tool lets you type in a phone number and choose either Hear Voicemail or Lookup Name.
It is not perfect, but seemed to work on several phone numbers I tested and knew the correct information too. When you try to Spy Dial a phone number using the free version, the number dialed will display a different caller ID number, not yours. If the caller dials the number to find out who called them, Spy Dialer will leave a message stating the caller has been spy dialed. Depending on your situation, this may not be in your best interest even though the caller won't know who sent the call.
This product has a paid version that will not tell the caller they have been spy dialed, instead it will go to a dead end number which cannot be connected too. Spy Dialer provides a stealthy dead end.
SNEAKY…
Spy Dialer is the newest, fastest, SNEAKIEST free reverse phone lookup on the web. It works with cell phones, landlines and email addresses. Even non-published numbers! Try our reverse cell phone lookup by voicemail for a great cell number search!
BUT LEGAL
We use publicly available information, social media and user-contributed address books to provide names and photos for unknown phone numbers and email addresses when you want to spy dial using our website. This is stuff you would never find in a phone book — or .com websites based on phone books, whitepages or yellow pages!
+ FREE!
Finally, there's a 100% totally free phone number lookup that REALLY is a free phone search. Get a minimum of 3 free phone lookups a day — no membership required! Need more? Just contribute your address book or become a member!
Quick Tips by Washington State investigators!