Seattle Private Investigator | Private Investigation Services in Washington State

Attorneys
Private investigation can be crucial to attorneys by establishing the facts surrounding a legal case. Consulting with a professional private investigator can help you to leverage your position by finding creative and effective ways to come out ahead of your adversary. As an attorney, you have very specific needs and our job as your private investigator is to make sure you have all the facts and information when you need it.

Civil Investigations
Civil Investigations
help uncover and assemble the information needed for a civil trial. In most cases, this type of court case involves two individual citizens who are arguing about an issue that relates to their rights as citizens. For example, if one person sues another for damages caused in a domestic accident, the case will likely be tried in a civil trial.
Civil investigators
are utilized to gather the evidence that is essential to such a trial.

Criminal Investigations
Criminal investigations research, locate and collect evidence for a case or specific purpose. A criminal investigator looks for clues and evidence to determine whether a crime has taken place. If a crime's been committed, criminal investigators may look into the background of the accused trying to uncover who committed the crime. Criminal investigators use several techniques to find necessary evidence for a case.
Why Choose Washington State Investigators?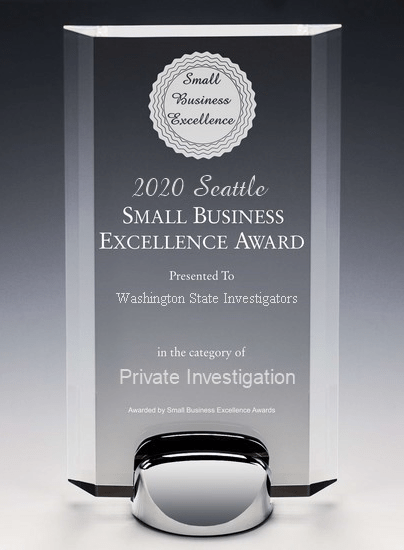 WA Licensed & Insured Private Investigation Agency

17 yrs Experience & Knowledge

Proprietary Database Research

Covert Surveillance Specialists

Case Investigation & Litigation Assistance for Attorneys

Civil & Criminal Investigations

Cryptocurrency Scams & Fraud Investigations

Access to Specialty Resources

Serving all of Washington State

Providing Confidentiality, Integrity, & Professionalism
About Washington State Investigators
Washington State Investigators is a private investigation agency located in Seattle Washington, and dedicated to supporting individuals and businesses with an affordable means to the information, and investigation services they require. Everyday, advances in technology change how we communicate, socialize, travel and work. Investigation services and techniques are more dependent on technology now than ever before. By integrating skill sets in photography, video, information technology and private investigation, we provide our clients specialized services resulting in high quality investigative solutions.
Washington State Investigators is dedicated to assisting all clients in a professional manner. We understand our client's put a level of confidence and trust in our company which we take very seriously. Our character as a professional investigation services agency is very important to us, and why we strive to deliver quality results with every case. We provide our clients additional layers of protection by securing their case information behind firewall hardware and software, using an encrypted secure email provider, and encrypted data storage. Confidentiality, Integrity and Professionalism demonstrate the business culture at Washington State Investigators.
Our primary office is located in south Seattle, this puts us in the central urban hub for the greater Puget Sound area and Washington State. Our main office is based in Burien Washington, which allows us to be centrally located to all our clients, providing quick access to legal services and courts, investigative resources, and ease of access to outlying cities and counties. We understand which resources are required to solve problems and answer questions, reducing time and effort, and saving our clients money. Washington State Investigators invites you to call us for a confidential discussion and experience our professional customer service.
Main Menu Links
| | |
| --- | --- |
| | Washington State Investigators |
| | About Our Company |
| | Case Assistance for Attorneys |
| | Knowledge & Experience |
| | Private Investigation Services |
| | Free PI Resources |
| | PI News Articles & More |
| | About Retainers & Service Fees |
| | What is a Private Investigator |
| | Private Investigator Licensing Info |
| | All Communications Confidential |
Site Links
| | |
| --- | --- |
| | Adultery & Infidelity |
| | Child Custody & Protection |
| | Child Custody & Parenting Plans |
| | Civil Investigations & more |
| | How It Effects Child Custody |
| | About Computer Security |
| | Corporate Investigations |
| | Crime Scene Investigations |
| | Witness Interviews & more |
| | Crypto Scams Investigations |
| | About CyberCrimes & more |
| | Fraud Investigations & more |
Site Links
| | |
| --- | --- |
| | Hidden Asset Services |
| | About Identity Theft & more |
| | Self Protection & Training |
| | About Mystery Shop Services |
| | About Security Services & more |
| | Investigative Service Fees |
| | About Skip Trace Investigations |
| | Covert Surveillance Services |
| | What is Employee or Workers Comp Fraud & more |
| | Workers Compensation Fraud Investigations |
---
Confidentiality, Integrity, and Professionalism
Washington State Investigators