Black Book Online is a great website when starting to perform an investigation. Black Book Online has so many resources to use and provides easy navigation. You can search by record type or start a search from within your state of preference. What makes this site so nice is that covers a vast list of resources under one roof.
Black Book Online is a one stop shop for those who need easy navigation and a well structured layout to get the information you need. After using Black Book Online a few times, you will agree that it offers a great starting point for amateurs and professionals alike. We recommend visiting Black Book Online and getting used to the layout and then perform investigative research on yourself to better understand what information you can receive and its accuracy. As with all free public information websites, some of the information may be out dated. For this reason, we suggest you start by researching yourself, that way you understand any limitations.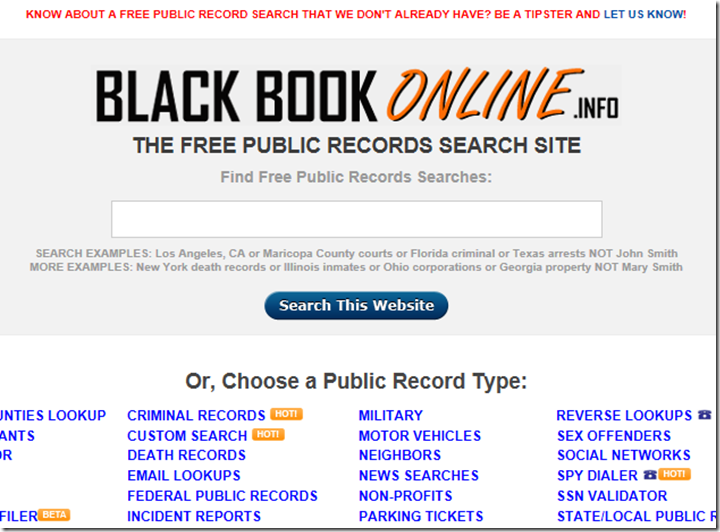 We've pre-scanned over a billion public records from thousands of public record data sources throughout all fifty states. We know where records can be found for any given name BEFORE you even run it! Once you do run a name, we give you a list of free public record look-ups where there's a possible* record matching the name. Just go to the free public record lookup to see the official public record information that exists!
Since we haven't pre-scanned ALL possible public records (and doing so would probably be impossible) we also have the best database on the web for free public record look-ups — so your public record research can dig even deeper when it needs to! When you're done with our name search, just use our database of over 36,000 free public record look ups to keep searching!
And here's 3 more things you might like:
100% Free to Use – No Sign up Required – 100% Anonymous to Use